The reaction to the unveiling of a new generation of iPhones this week was "lackluster" compared to prior new smart phone announcements, which could bode poorly for Apple's stock, according to a data firm which tracks social media sentiment and market behavior.
The tracking of thousands of social media posts pointed to a marked decline in the number of people interested in buying the new technology, according to LikeFolio founder Andy Swan.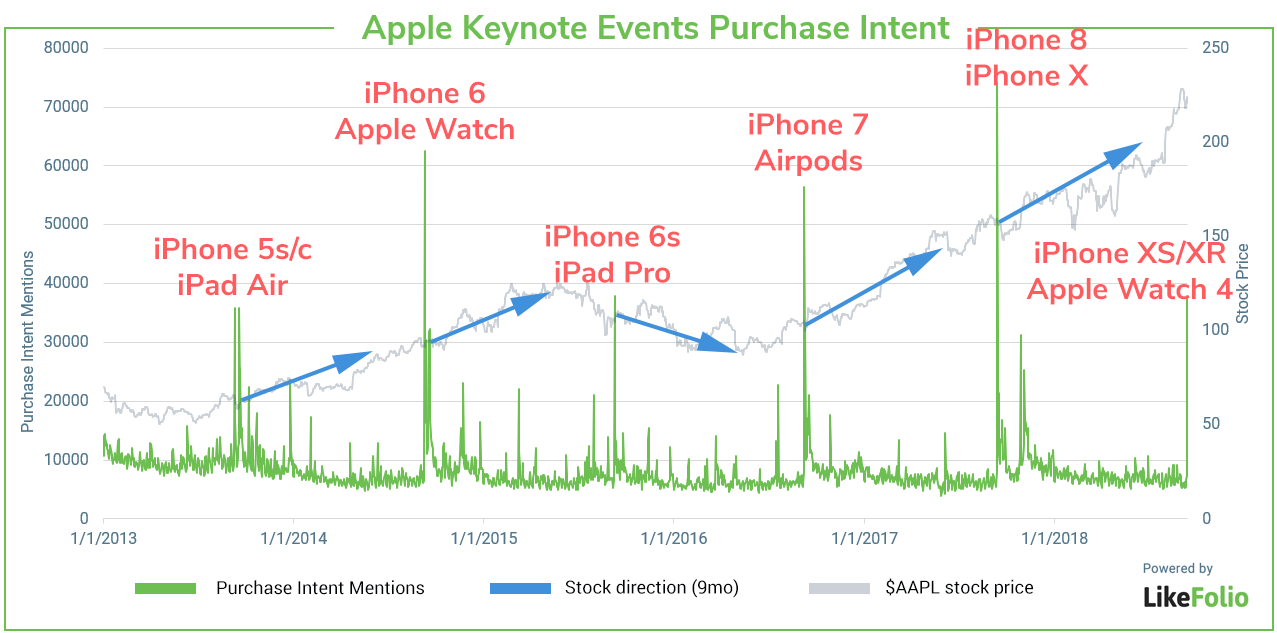 Apple unveiled the iPhone XR, the iPhone XS and iPhone XS Max on Sept. 12. It also announced a new Watch, the Series 4, with improved fitness tracking and new health features.
LikeFolio found that the number of people who intend to buy the new Apple products following the presentation was the lowest measured since 2015.
"Frankly, it's not a good sign for Apple. The last time purchase intent was this low for a Keynote event, Apple sales fell year-over-year for the first time in 13 years," Swan wrote Thursday.
A quick glance at LikeFolio's data shows that purchase intent mentions after a Keynote appear to be a reliable predictor of Apple's stock movement over the nine subsequent months.
For example, shares gained ground in the nine months following Apple's 2017 address, when social media intent-to-purchase mentions soared for the iPhone 8 and X. In a similar way, the stock fell in the nine months after the 2015 Keynote, with muted appetite for the iPhone 6s and iPad Pro.
In a similar way, in the nine months following the Sept. 9, 2015 media event— when Apple revealed the iPhone 6s and the iPad Pro — its stock dropped 9.5 percent against the S&P 500's 9 percent climb.
"Two hours and four products later, the end result was a lower level of purchase intent mentions for Apple products/services than we had seen in either of the two prior years," he added.
Swan did note, though, that the Apple Watch Series 4 was the "clear fan favorite," boasting new FDA-approved heart monitoring features. The upgrades pose a major threat to Fitbit, he added, which plummeted following the reveal; the company's stock is down nearly 7 percent this week.
And to be sure, Apple shares have been on a tear in 2018. Its stock is up more than 7 percent in the past month alone, adding to a 33 percent gain so far this year.
Despite the price gains, Apple is still relatively cheap based on its current performance.
Apple's share price, at $226.41 as of Thursday's close, trades at about 17 times analysts' forecasts for 2019 earnings and 15 times expected 2020 earnings, according to FactSet.
That's well above the multiples of other "FAANG" stocks like Amazon, Netflix and Facebook. Netflix is trading at 84 times projected 2019 earnings, while Amazon is trading at 78 times 2019 results.